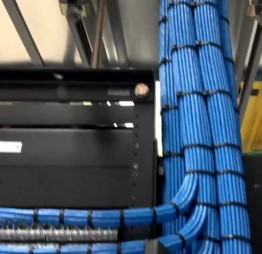 Bayview Custom Communications is a leader in the communications wiring industry. We are an innovative company providing cost effective, high performance data, voice, fiber and video management solutions.
BCC is the only source you'll need to seamlessly incorporate a high-speed voice, data, fiber or video system into your new or existing cabling infrastructure. We're your "one-stop shop" for all facets of designing, installing and maintaining a networked solution.
Today more than ever, the cabling infrastructure forms the most critical part of your local area network. And as demands on the network increase with streaming video, multimedia, and an influx of users, one can determine that the demands on network cabling will continue to increase as well.
BCC specializes in designing systems that meets today's requirements, while providing the foundation for future needs in the most cost effective way.
We are able to save you time and money for related construction work (office renovations, MDF/IDF closet build outs, electrical modifications, etc.) Overall, we can offer you a larger bundle of related services to streamline and expedite the entire project. A claim of incomparable quality is not complete without a commitment to following all relevant industry standards, codes and licensing.
Through the years we have assembled a work force second to none. Utilizing the most current technology allows us to compete in the global market. We adhere to the highest industry standards in Cable Installation. We are committed to maintaining a highly trained, professional team, which delivers the finest and most comprehensive consulting, design, installation and maintenance services to our customers.
SERVICES WE PROVIDE
Large Scale BMS controls Installation. (Bronx VA, PCVST, Kips Bay, Parker Towers, MSK, Camp Smith, Roosevelt Island Sports Park)
Rigid-Steel, EMT, PVC, Flexible Metallic and Nonmetallic Conduit Installations
Cat 6, Cat 6A Data/Voice Installations
Indoor/Outdoor Fiber Installations and Terminations
Data Center Buildouts
Security/AV
LED Bulb Upgrades
Outdoor Light Fixture Replacements
Lighting with Centralized Battery Backup Installation
WRGB Lighting with Wireless Controllers